by Kathy Cannon Wiechman
At Chautauqua in 1999, I was told that a writer needs to have "the 5 P's."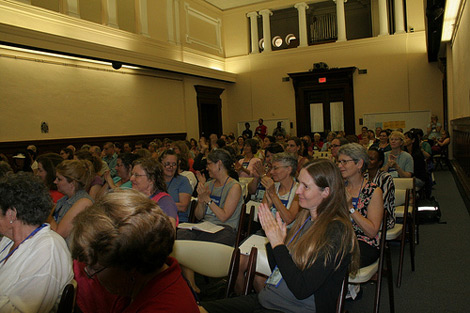 Highlights Foundation workshop at Lake Chautauqua.
Pride.
Don't call yourself a want-to-be. Be proud you're a writer. Even if you're not yet published, don't feel embarrassed to proclaim yourself a writer.
Practice
. As with most skills a person develops, the more you do it, the better you get. AC/WP (
see April 1st post
).
Professionalism
. Follow guidelines. Honor your commitments and deadlines. Don't badger editors (even when you'd like to strangle them). Once published, market yourself in a professional manner.
Patience
. This one can be tough, but once you mail that manuscript, throw yourself into your next project. Counting the days until you hear back is pointless.
Perseverance
. Never give up. Keep writing. Keep submitting those manuscripts. Keep moving forward.
After taking the 5 P's to heart, I added a sixth P to my list—
Passion
. You have to love what you do. You need the passion to tackle it again every day. If you don't, you'll burn out quickly. And put that passion into your work as well. Trust me, it shows.
And if you're a believer as I am, never underestimate the 7th P—
Prayer
.