(Kathy's A to Z posts are tidbits of fact gleaned from her research for her historical-fiction novel LIKE A RIVER.)
As the Civil War neared an end, the Confederacy moved prisoners from Andersonville and released them into Union hands. After Lee's surrender, those men and released prisoners from Alabama's Cahaba Prison were loaded onto the steamboat Sultana to be sent north. At long last, the horror was over—or so they thought.
The Sultana was built to carry 376 passengers and a crew of 85. After civilian passengers had boarded, the released prisoners were loaded onto the decks until the weight of the men caused the floors to sag. Posts were brought in to shore up the floor, and more men boarded.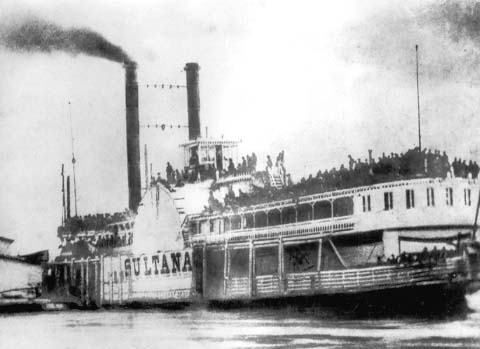 The U.S. government paid steamboat lines for each soldier they carried, which provided incentive to carry as many as possible. The final number was around 2,500.
Around 2:00 AM on April 27, 1865, the boat's boilers exploded. The explosion, its fire, the boilers' scalding water, and drowning in the Mississippi killed nearly 1,800
—
more than would die on the Titanic fifty years later.
After hearing those staggering numbers, I wondered why I had never previously heard about the Sultana (which was built in my home city of Cincinnati). The news in April, 1865, announced the end of the bloodiest war in U.S. history, the assassination of President Lincoln, and the search for and death of assassin John Wilkes Booth. The deaths on the Sultana just weren't considered the most important news of the day. It was a story I had to write.